Personal Injury Law Firm in Oak Forest, IL
Over 50 years of combined legal experience
Dealing with a personal injury can be difficult for several reasons.  There is the pain and treatment that you must go through from the injury itself, as well as possible financial trouble from costly medical bills.  If your injury forces you to miss work, the financial burden can get worse from the loss of wages.  However, you are eligible for compensation to help you pay for medical treatments and overcome financial difficulties if your injury was caused by the negligence or actions of a third party.
Compensation for Personal Injuries
Those who have suffered a personal injury are eligible to receive compensation because both businesses and individuals are responsible for avoiding actions that can lead to bodily harm.  A personal injury lawyer can help you get compensation if the failure of this responsibility led to your injury.
Our personal injury attorneys at Berry K. Tucker & Associates, Ltd. provide legal representation for those in Oak Forest, IL who have experienced a personal injury.  It is your right to receive compensation to recoup your lost wages and pay your medical bills if the actions or negligence of a third party led to your injury.  We will examine your case and work tirelessly to ensure that we secure the compensation you deserve to move past this ordeal.
Personal Injury Lawyers in Oak Forest, IL
The law defines personal injury as damage that is caused to an individual's body or well-being due to the actions of a third party.  It does not matter if the actions were intentional or unintentional, victims of personal injury still have a right to seek compensation.  A personal injury claim must be filed in a civil court within two years of the occurrence of the injury because Illinois state law has a 2-year statute of limitations on personal injury cases.  A personal injury lawyer can help you file your claim in court and ensure that you are in compliance with the statute of limitations.
Our experienced personal injury lawyers at Berry K. Tucker & Associates, Ltd. can provide legal representation for the following types of personal injuries:
Car accidents
Motorcycle accidents
Truck accidents
Nursing home abuse and neglect
Construction accidents
Worker's compensation
Slip and fall accidents
Birth injuries
Bicycle accidents
Wrongful death
Defective or dangerous products
You can depend on our personal injury attorneys to work aggressively to get the compensation that you are entitled to.  There is also a chance that you could get punitive damages which are given as a punishment to the party responsible for your injury.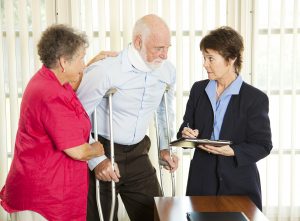 The personal injury attorneys of Berry K. Tucker & Associates, Ltd. will carefully examine your case and inform you of all your legal options.  We have experience navigating various types of personal injury cases and we work to ensure that you get the maximum compensation to cover medical expenses and lost wages.  Our attorneys will work with insurance agencies and other parties as necessary to gather the evidence needed for your case.
Contact Us
If you need representation for a personal injury claim in Oak Forest, IL, contact Berry K. Tucker & Associates, Ltd. at 708-425-9530.
---
Related Personal Injury Law Posts and Services:
How to File for Worker's Compensation
How a Personal Injury Attorney Can Help You?
Reasons a Personal Injury Attorney May Not Take a Case
What Will Affect My Personal Injury Claim?
Personal Injury Law Oak Lawn, IL
Personal Injury Attorneys Evergreen Park, IL
Personal Injury Lawyers Burbank, IL