Real Estate Lawyers in Oak Lawn, IL
Experienced in diverse real estate buying and selling transactions.
It can be exciting to buy and/or sell home; however, matters can quickly become complex and overwhelming when taking the legal and financial side into account. As there can be numerous legal factors involved, it is best to involve a real estate lawyer to oversee the process.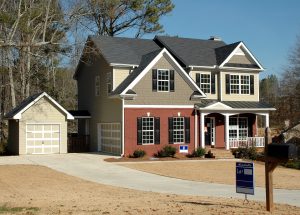 To ensure that the transaction is processed smoothly and your legal rights are protected. Berry K. Tucker & Associates, Ltd. has real estate attorneys with years of experience in both commercial and residential real estate transactions in the Oak Lawn, IL area. They will work with you throughout the entire process to ensure that your best interests are protected.
Purchasing Property with Real Estate Lawyers
If you are looking to purchase a new home or building, our real estate attorneys will guide you to make the decisions. Our real estate lawyers provide the following during the purchasing process:
Explaining the purchase contract and its requirements
Examining real estate documents
Registering legal documents pertaining to the transaction
Attending the closing meeting
Ensuring valid, legal ownership of the property
Our real estate lawyers will work with you and are available to answer any questions along the way.
Selling Property with Real Estate Attorneys
$195 special offer on all selling transactions!
As selling the property is different than purchasing, our real estate lawyers will ensure that the purchase and sale agreement terms protect your best interest. The real estate lawyers at Berry K. Tucker & Associates, Ltd. provide the following during the selling process:
Ordering the survey
Obtaining all documentation required for closing
Handling issues with the title
Drafting document necessary for transferring ownership
Handling negotiations with the buyer
Attending the closing meeting
While a real estate transaction may seem straightforward, there can be a variety of hidden issues and legal complexities that are not explained in the process. Our experienced real estate attorneys will be able to handle any issues along the way and help you make the best decisions.
Contact Us
If you are purchasing or selling your property in Oak Lawn, IL or surrounding communities, contact Berry K. Tucker & Associates, Ltd. at (708) 425-9530 to guide you throughout the sale transaction process.
---
Related Real Estate Law Posts and Services:
What to Look for When Buying a Home
First Time Home Buyer Tips
Real Estate Attorneys Evergreen Park, IL
Real Estate Law Firm Oak Forest, IL
Real Estate Attorneys Burbank, IL
Professional Real Estate Lawyers Alsip, IL