Family Law Attorneys in Oak Lawn, IL
Over 50 years of combined legal experience
Family law matters are not always easy to handle. Because they can include many different issues, they can become complex in a short amount of time. When this happens, you need to have a qualified, experienced attorney to handle the situation accordingly.
At Berry K. Tucker & Associates, Ltd. in Oak Lawn, IL, our experienced family lawyers will develop a strong partnership and work with you to establish an effective solution for even the most difficult situations.
Our family law services professionally cover all of the following:
Divorce: Experiencing a divorce is stressful, not only mentally, but also physically, financially, and emotionally. As this will have a significant impact on your life, anxiety can build up and make matters worse. Our divorce attorneys fully understand your situation. We can advise you of how we can assist in taking care of the litigation and/or mediation in order to help you achieve your goals.
Child Custody and Visitation: When it comes to the safety and wellbeing of your child, matters can quickly become difficult between you and the other parent. Establishing a strong relationship with children is also extremely important for separated or divorced parents; therefore, we will use our extensive experience to help you establish an effective agreement that works in your best interest as well as that of your children.
Spousal Support: Our family law attorneys fully understand that all marriages and divorces are unique, which is why we will establish a caring partnership with you to find the best solution for you and your children. When handling spousal support cases, Berry K. Tucker & Associates, Ltd. takes into account all of the following: the length of the marriage, standard of living, division of assets, and respective incomes. We will also help you through the most complex decisions involved during litigation and mediation.
Property Division: Sometimes the relationship of the couple does not allow for a property division agreement that both parties believe to be in their best interests. As disputes can become sensitive and stressful, our attorneys have years of experience in assisting with the division of the following assets:
Savings accounts
Debt
Retirement programs
Real estate
Personal belongings/property
As our family attorneys are skilled, knowledgeable, and experienced in establishing an agreement that works in your best interest, Berry K. Tucker & Associates, Ltd. will help ease some stress through this difficult time.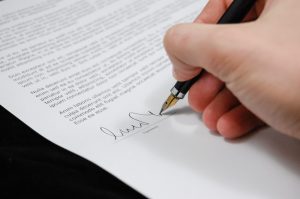 Domestic Violence: No matter what the situation, domestic violence is never something to be taken lightly. That is why we will help you to fight back in court, securing your protection through a protection order or other means of protection. However, if there was an unjust accusation of domestic violence, we will ensure that you are represented if requested.
Pre-Nuptial and Post-Nuptial Agreements: Although nobody wants to think about the possibility of a failed marriage, these agreements can save a lot of time, money, and stress if a problem were to occur. As they can provide quick and effective solutions, they can even help a marriage remain strong. Our family lawyers can also help you understand all of the additional benefits these agreements have to offer in a marriage.
If you are experiencing difficulty with any of the preceding situations, Berry K. Tucker & Associates, Ltd. has experienced and skilled family law attorneys that will help you sort through all of the legal complications within your family.
Get a Free Consultation
Contact us at (708)425-9530 to receive a free consultation in regards to family law matters in Oak Lawn, Chicago, IL or the surrounding areas.
---
Related Family Law Services and Posts:
Do You Need a Lawyer to File for Divorce in Illinois?
Managing Family Relationships After Divorce
How to File for Divorce in Illinois
Divorce Attorneys Oak Lawn, IL
Divorce Lawyers Burbank, IL