Estate Planning, Wills, and Trust Attorneys in Burbank, IL
Over 50 years of combined legal experience
Estate planning is vital to ensure that your valuable assets are distributed as you would like. Simply explaining your wishes to others does not mean things will go that way. However, wills and trusts are legal documents that outline the planned division of your assets and they must be carried out.
At Berry K. Tucker & Associates, Ltd., we offer the services of experienced estate planning attorneys in Burbank, IL to help you through this process. Our attorneys have years of experience assisting clients with their wills and trusts and are happy to sit down with you to define your objectives. From here, we will create a draft under your guidance that complies with state and federal laws.
Estate Planning Attorneys in Burbank, IL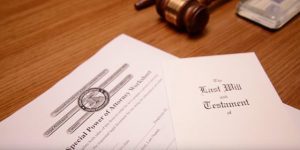 Attention to detail is important when drafting wills and trusts because they will directly affect the future of your family. Everything must be considered, from valuable assets to outstanding debts.
Berry K. Tucker & Associates, Ltd. will learn the details of your financial situation and offer guidance on how best to manage it in a legal and sensible manner. Once we have a better understanding of your unique circumstances, we can draft the appropriate documentation.
About Wills
Wills can be extraordinarily tedious, as they must be updated as regularly as your financial situation changes. This begins with a first draft, which we are more than happy to assist you with. Our ultimate goal is to create a legal document that adheres to your wishes.
While there are several different types of wills (such as simple wills and living wills), our attorneys are adept in preparing them all. Berry K. Tucker & Associates, Ltd. will leverage our vast experience in preparing wills to select the right fit given your intended course of action.
About Trusts
Trusts are very important in estate planning because they help you manage your assets and prepare for the future of your family. As with wills, there are different types of trusts that can be drafted to accomplish different goals.
Based on your needs, our experienced trust attorneys will determine the correct forms to use and draft a copy.
Some of the different types of trusts that our attorneys are familiar with include:
Credit shelter trusts
Charitable trusts
Spendthrift trusts
Dynasty trusts
Estate freeze trusts
Family trusts
Irrevocable life insurance trusts
Irrevocable trusts
Life insurance trusts
Limited term trusts
Living trusts
QTIP trusts
Qualified personal residence trusts
Revocable living trusts
Special needs trusts
Perhaps the most valuable thing that our talented attorneys will leave you with is peace of mind. Berry K. Tucker & Associates, Ltd. works diligently to ensure your estate planning documents are prepared properly and meet your wishes in the future.
Schedule a Consultation
To speak with one of our Berry K. Tucker & Associates, Ltd. representatives in Burbank, IL area, give us a call at (708) 425-9530. We will work with you to make the estate planning process as painless as possible.
---
Related Estate Planning, Wills, and Trust Services:
Estate Planning, Wills, and Trust Attorneys Oak Lawn, IL
Estate Planning Lawyers Evergreen Park, IL
Wills and Trust Attorneys Palos Hills, IL
Estate Planning Attorneys Orland Park, IL