Estate Planning, Will and Trust Attorneys in Palos Hills, IL
Over 50 years of combined legal experience
At Berry K. Tucker & Associates, Ltd., we help residents of Palos Hills, IL, secure the future of their valuable assets with our estate planning services through the development of optimized wills and trusts. Our talented estate planning attorneys will take the time to learn about your financial situation and goals, and then walk you through the best way to achieve them.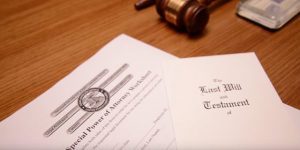 While there are many different types of wills and trusts, our attorneys are adept in them all. We are happy to draft original copies or update existing copies based on your needs.
Estate Planning Attorneys Palos Hills, IL
Writing wills and trusts is instrumental in ensuring that your assets are handled the way you want in the future. By "assets", we are referring to money, items, outstanding debts, property, and more.
These documents are legally binding and can be arranged to secure the future well-being of your family. Berry K. Tucker & Associates, Ltd. will work with you to make sure your paperwork addresses your desires for your assets.
About Wills
Our will attorneys will draft paperwork that defines how your money and assets should be handled after you pass. As your financial situation changes, it is important to keep your will updated.
There are different types of wills, such as simple wills and living wills, and our experienced attorneys will determine which type best fits your needs. Berry K. Tucker & Associates, Ltd. always leverages our expertise to arrive at the best outcome for you.
About Trusts
Trusts are a little bit different than wills and can go into effect before your death. However, they are simply another way to divvy up your assets. Our trust attorneys will help you through this process by first identifying which type of trust best fits your needs.
We have experience in setting up the following and more:
Charitable trusts
Credit shelter trusts
Dynasty trusts
Estate freeze trusts
Family trusts
Irrevocable life insurance trusts
Irrevocable trusts
Life insurance trusts
Limited term trusts
Living trusts
QTIP trusts
Qualified personal residence trusts
Revocable living trusts
Special needs trusts
Spendthrift trusts
At Berry K. Tucker & Associates, Ltd., we understand that writing wills and trusts is not exactly exciting; however, these documents are vital to ensuring that your desires are met when the time comes to pass on your valuable assets.
Our experienced attorneys will work diligently to guarantee your wishes are met and give you greater peace of mind.
Contact Us for a Consultation
To learn more about our estate planning services, or to schedule an appointment, contact our representatives at (708) 425-9530. Our estate planning attorneys are among the best in the business, and happy to get you on the right track. We currently service residents of Palos Hills, IL, and surrounding areas.
---
Related Estate Planning, Wills, and Trust Services:
Estate Planning Lawyers Oak Lawn, IL
Wills and Trust Lawyers Orland Park, IL
Wills, Trusts, and Estate Planning Attorneys Evergreen Park, IL
Estate Planning Attorneys Burbank, IL
How to Choose an Estate Planning Attorney
Different Types of Wills