Will and Trust, Estate Planning Lawyers in Orland Park, IL
Over 50 years of combined legal experience.
Wills and trusts are instrumental parts of estate planning because they are the only way to ensure that the future wishes of your property and assets are fulfilled. At Berry K. Tucker & Associates, Ltd., our estate planning attorneys will walk you through the development of your will or trust.
Depending on your situation and goals, there are different types of wills and trusts that are ideal for certain situations. We will identify an optimal solution after learning about your unique circumstances and draft the initial copies. From here, we can update them as frequently as necessary. We offer these services to residents of the Orland Park, IL, area.
Estate Planning Attorneys Orland Park, IL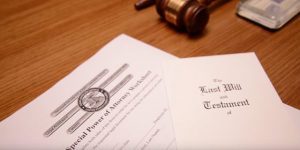 Writing wills and trusts is like changing the oil in your car: it is not necessarily enjoyable, but it is essential to keeping the future of your family secure. Simply stating in person, or informally in writing, how you would like your money, assets, and property to be handled in the future is not legally binding.
By working with our experienced attorneys, you will be left with optimized, legally-binding paperwork that defines your exact wishes.
About Wills
After your death, wills define how your money and assets will be handled. Because they involve essentially everything you own, it is important to update them regularly as your financial situation changes.
If you are new to the will-writing process, our attorneys at Berry K. Tucker & Associates, Ltd. can walk you through the process by identifying which type of will is ideal for you, and explaining it as thoroughly as needed. If you already have a will, our will and trust attorneys can update and optimize it for you.
About Trusts
Trusts represent another way to manage your assets but unlike wills, trusts can go into action before your death. Our trust attorneys are happy to help you create a will from scratch or enhance existing documents. Berry K. Tucker & Associates, Ltd. has the expertise required to identify the proper type of trust for your unique goals.
Our talented attorneys are adept in the following and more:
Charitable trusts
Credit shelter trusts
Dynasty trusts
Estate freeze trusts
Family trusts
Irrevocable life insurance trusts
Irrevocable trusts
Life insurance trusts
Limited term trusts
Living trusts
QTIP trusts
Qualified personal residence trusts
Revocable living trusts
Special needs trusts
Spendthrift trusts
Contact Our Experienced Attorneys
What truly separates our estate planning attorneys from others in the industry is their willingness to learn about your financial situation and goals, and draft truly optimized forms to achieve your future desires. At the end of the day, your peace of mind is our priority.
To take advantage of our estate planning assistance, contact our Berry K. Tucker & Associates, Ltd. representatives at (708) 425-9530. We currently service residents of Orland Park, IL, and surrounding areas.
---
Related Estate Planning Services:
Estate Planning Attorneys Oak Lawn, IL
Wills and Trust Attorneys Palos Hills, IL
Wills, Trust, and Estate Planning Evergreen Park, IL
Estate Planning Lawyers Burbank, IL
How to Choose an Estate Planning Attorney in Illinois
5 Steps for Making a Living Will in Illinois
Different Types of Wills
What is the Right Age to Write a Will?