Getting a divorce can be devastating and seem like the end of the world – almost like a part of you is gone. Or that you lost your best friend. Many people often will feel lonely, self-loathing, anxious, and even depressed after a divorce.
But the worst part is that some individuals will do things they may regret later, such as reacting irrationally or destroying property. But allowing this emotional pain and stress to consume you will only make everything worse, causing you to lose more than your spouse.
Divorce Doesn't End Everything

Despite how you may feel about this change, never forget that a divorce doesn't mean the end of the world. As much as you may feel like this is the end of all things good, it's not. You haven't lost everything, and that's crucial to remember. You are only in the transition phase to a new life, and while it may seem scary, it won't be so bad once you get through it.
Although some divorces are more complicated than others. For divorcees who shared children and assets, like a home, car, or boat, having to maintain contact with the other partner can get stressful very quickly. This can also make the transition phase longer and more difficult.
But this doesn't mean that there's no light at the end of the tunnel. The end of one event will only lead to the beginning of another. So to get to that new beginning, you need to let go of the past, meaning pushing away the emotional pain and focusing on your own future.
If you had children or shared assets from this marriage, you can speak to a divorce or child custody attorney to relieve some stress when it comes to determining the custody of the children and the division of the property.
10 of the Best Ways to Get Over a Divorce:
Rest assured, the quicker you embrace these habits, the faster you will move towards a new, healthy lifestyle. Your ex-spouse will be a thing of the past and your future self will thank you for moving on as quickly as you did.
1. It's OK to grieve after a divorce
Dealing with grief and loss can be one of the most difficult feelings to overcome in life. It can also lead to isolation, self-sabotage, and depression. It can be hard for others to help the grieving overcome this process because everyone handles this emotion differently.
Some divorcees can easily overcome this issue, quickly finding distractions to help them move on. For others, not so much. But no other couple will have experienced the same relationship as you and your ex, so each situation is completely unique.

Even if you are one who finds it particularly difficult to overcome grief, it's still healthy to allow yourself to experience it. Why? Because ignoring it will only make the feeling stronger, making it worse in the long run. So the best way to handle these emotions is to let yourself feel them now to get them out of the system rather than letting them build up over time.
2. Delete everything off your ex off your phone
According to Time magazine, the average American checks their phone about 50 times a day. And many phones are filled with pictures, texts, and even videos of their significant others. As you can imagine, these are the last things you need bringing you down. The best thing to do during a divorce is to delete everything of and from them from your phone.
The only exception to this rule is keeping their information when it concerns your children. Other than that, seeing their name everywhere in your phone will only cause more pain.
As with all emails, never search your inbox and read them over and over. One of the most common mistakes is overanalyzing what they meant, either taking it as a hint to get back together or something worse.
The same goes with ridding yourself of everything else given to you by your ex. Especially items with significant value – they will vary by person and you will know which items – the sooner you get rid of it, the better.
3. Stay positive
Allowing "what if" and "If only" thoughts to consume your mind will only make things worse. The process of divorce often plays mind games, but never let yourself believe any of these negative thoughts. Common examples include, "I'll never find someone to love me again," and "I'm going to be alone forever." That's never true because life is full of surprises!
The healing process is not always easy but it's crucial to stay positive. If you believe good things will happen to you, they will. In ten or fifteen years from now, you may look back at yourself now and feel good about doing what was best for you.
One good way to think about it is to think back to a previous breakup and how you were able to get over it then. What did you do to get over it? The situation you are in now is similar and it's important to remember that you will heal after this divorce. Life is full of ups and downs but the beauty of it is that life always moves on, even when you feel it won't.
4. Time heals all emotional pain
This is one of the most important concepts to keep in mind: time heals all. Surely this isn't the only time you've felt grief. If you think about the other difficult times in your life – such as being without a job and unable to pay bills, a previous breakup, or missing out on an opportunity – and how you got through it, it can ease some stress.
Surely this situation will be different than all the others, but if you compare the emotion of heartbreak, grief, or stress you felt then, it can make things feel a little more bearable now. You won't just be hoping for things to get better but will have past experiences to prove that it's true.
There are actually studies that prove that people are stronger when they are in a suffering stage. It may not come right away, but someday, you will wake up and be in a much better mood than the previous few days. You just need to have patience and know that your day is coming.
5. Don't regret the marriage
Many divorcees will view their marriage as a "waste of time" or a "failed relationship." Thoughts like these can be easy to focus on, and they will come naturally. But they are not true.
Did you know that if you keep dwelling on these negative thoughts, it will affect your willingness to take risks when you are ready for a new relationship? Just because your marriage didn't last, it doesn't mean that you wasted all that time and investment.
Ask yourself these questions:
Did you learn something?
Do you have any happy or positive memories from that relationship?
Did you have any kids with that person?
If the answers to any of those questions are "yes," then surely the marriage wasn't a waste of time.
6. Learn from the past
Going back to learning experiences, personal growth is one of the most valuable assets you can get out of a relationship. Think about what you learned about yourself, from the other person, and other people throughout your marriage. If you also think about who you were before entering that relationship, you may be surprised at the difference in what you know now versus then.
Have you changed yourself for the better?
Have you made any mistakes that turned into learning experiences?
Are there new opportunities for you now that you didn't have before?
Did you learn about others that can help in a future relationship?
Everyone can learn from their experiences, taking and applying this knowledge to a future relationship that can be successful in the long run.
7. Focus on yourself
After long-lasting marriages, it may feel as if you forgot who you were as an individual. This can be a shocking experience after being married for so many years. It can also feel scary to be alone after spending so much time with the same person. But thinking about how much time you spent with them and being alone now is natural.
But when you find yourself feeling like this, whether you're alone at home, at work, or out with friends, remember that your past relationship doesn't define you as a person. Your relationship never made up who you are, including your routine, your habits, likes and dislikes, etc. Getting into a new routine can be hard, yes, but you can do it without your ex.
To help get into this new routine, it's okay to be a little selfish: focus on you.
Do what you want to do
Stay out late
Adopt a pet to have a companion
Take a vacation. Get a hobby
You don't have to ask permission from anyone.
Remember that you need to go easy on yourself to ease into the life of being single again. Go out and discover new things. The world can be scary to dive in alone, but you can use it as your motivation to rediscover yourself as a person and get excited about your future.
8. Appreciate what you do have and what you learned
When you're still heartbroken and/or stressed out about the divorce, it's natural to only focus on what you have lost. But by doing this, you are only punishing yourself. The pain alone from a divorce is enough to deal with, so you never want to add to it by thinking about the physical things you lost.
So you may not have gotten the TV or the brand-new car, but take a moment to think of everything you do have. These things don't even have to be tangible; they can be things you achieved. To help with the process, write down a list of 10 things you really are proud of and maybe just not giving yourself enough credit. Even if you can't, ask someone who knows you well to name a few for you. At times like this, family and friends can see more about you than you can yourself.
9. Remember the reason for your divorce
It is common for couples to feel the need to get back together after a breakup. You may even feel it while you are grieving and it can be a struggle to not act on the urge to contact them. This feeling can feel like you've hit rock bottom. Like you are afraid of facing the world alone, devastated, or incapable of moving on.
So when you find yourself in this situation, think back about why it is that you divorced. Ask yourself these questions:
Were you unhappy while you were with that person?
Were they abusive?
Did they constantly do things that hurt you?
Did they never listen to you?
If you were the one that proposed divorce, think back about how you felt about the marriage and why you decided to leave. Thinking back to unhappy memories can be stressful and difficult, but it is also the best way to prevent those feelings from happening again.
But even after thinking about it, and you still want to get back together, ask yourself why. If the reasons that come to mind don't sound rational, be honest with yourself and keep pushing yourself to focus on your new life without your ex.
10. Don't lose hope in others
If your ex was abusive, made you unhappy, or betrayed your trust, the feeling can be devastating. You feel like you never want to love or trust anyone again after what just happened. Some divorcees may even feel like the entire world is set on making them miserable. So it's understandable that after your heartache, you will do anything you can to prevent this feeling from happening again.
Emotions such as these are normal and it's ok to distance yourself from others for a while. But thinking negatively about everyone else from a bad experience with one person is not the best way to go. Never let the pain caused by another person impact potential relationships you may have with other people.
At times like these, spend more time with your friends. They can help you to restore faith in humanity and open yourself up to new relationships from which you can also benefit. So instead of going straight home after work, text a friend and take advantage of happy hour at your favorite restaurant. Creating new memories can ease the stress and help you move forward toward your new life.
Additional Help for Getting Through a Divorce
Going through a divorce can be one of life's highest hurdles. But remember that you are not alone. There are others who are dealing with the same stress and grief at this very moment. Know that you also have friends and family that can help you overcome these emotions. Studies have also shown that individuals who spend more time with others are able to come out of a divorce faster than those who don't.
But getting through the emotional stress of a divorce is just one part. There are also financial difficulties, property division, and in many cases, children involved.  Due to the fact these situations must be sorted out, maintaining contact with your ex can be difficult, especially when they seem unreasonable.
Work with a Divorce Attorney
On the other hand, working with a divorce attorney can help sort out these complications. The experienced lawyers at Berry K. Tucker & Associates, Ltd. have over 50 years of combined experience when it comes to divorce and child custody.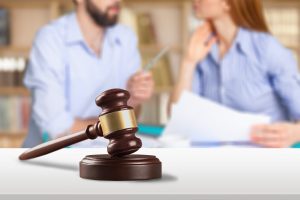 They will provide you with their undivided attention, handling your case with professionalism and assertion to help you obtain what you deserve. They have also worked with many diverse cases and won with their knowledge, resources, and determination to establish the best solution for their clients.
To schedule a consultation with Berry K. Tucker & Associates, Ltd. give us a call at (708) 425-9530.