Real Estate Lawyers in Evergreen Park, IL
Over 50 years of combined legal experience.
In Evergreen Park, IL, there are a variety of rules and regulations that must be followed when buying and selling property. To ensure you do not fall victim to needless legal or financial errors, our real estate attorneys at Berry K. Tucker & Associates, Ltd. can help you through the process.
In our experience, private citizens and businesses have a general idea of what to do but are unaware of some of the finer details. We will work with you to prevent any specifics from being missed and do everything in our power to protect your legal and financial rights when it comes to the property in question.
Buying Property with Real Estate Lawyers
The first thing to note when buying and selling property is that there are separate documents and procedures you will need to complete and follow depending on if you are pursuing the former or latter. While our experienced attorneys can help you with both, we like to point out the differences.
When it comes to purchasing property, we begin our services by summarizing the purchasing contract and its specifications in a way that makes sense to you. We will do this for applicable real estate documents, as well. After this, our real estate attorneys will help you register the legal documentation required to complete the transaction, and we will remain by your side during the closing meeting.
When push comes to shove, Berry K. Tucker & Associates, Ltd. is your advocate. By working with your specific interests in mind, we will do everything possible to guarantee a smooth acquisition of property. This is true whether you are a future homeowner, a small business owner, or even a large corporation.
Selling Property with Real Estate Attorneys
$195 special offer on all selling transactions!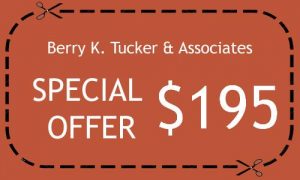 The trusted attorneys at Berry K. Tucker & Associates, Ltd. can also assist you with selling property. When this occurs, there are several differences that should be noted.
When you work with us in this regard, our real estate lawyers will:
Order the survey
Obtain all documentation required to close
Solve any problems with the title
Draft the paperwork necessary to transfer ownership
Negotiate with the buyer (while keeping your best interests in mind)
Attend the closing meeting
Assistance with Buying and Selling Property
We are fully aware that in residential and commercial applications, it is common to buy a property and sell an old one in rapid succession (if not at the same time). Our Berry K. Tucker & Associates, Ltd. attorneys are fully capable of helping you through both processes at once.
To schedule an appointment with one of our real estate lawyers, simply give us a call at (708) 425-9530. We are more than happy to answer any questions you have regarding our services. Berry K. Tucker & Associates, Ltd. operates in and around Evergreen Park, IL.
---
Related Real Estate Law Posts and Services:
First Time Home Buyer Tips
Real Estate Attorneys Oak Lawn, IL
Real Estate Lawyers Burbank, IL
Real Estate Law Firm Oak Forest, IL
Real Estate Lawyers Alsip, IL