Divorce is expensive, almost as expensive as getting hitched at the altar in a celebratory wedding. When it comes to proclaiming a lifetime union, couples in the United States spend on average $33,391 on a wedding. Divorce, on the other hand, costs spouses at least one-third of the dizzying cost of nuptials.
Costs to separate from a once-beloved spouse vary widely across the country. Out of all 50 states, California is the most expensive state in which to get divorced. The average divorce filing fee in the Golden State is $435, with average attorney's fees hovering around $13,800. In contrast, one of the least expensive states in which to get divorced is North Dakota, with average divorce filing fees of $80 and average attorney fees of $8,200.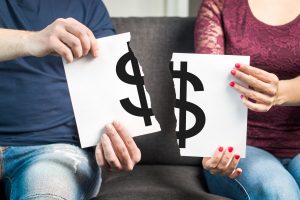 Illinois is not an economical state in which to legally separate from a spouse. Our state is in the top 10 states with the priciest divorce fees.
The Cost – $13,800
On average, the cost to divorce in Illinois is $13,800. Include child custody and support, alimony, and property division into the mix, and financing a divorce sharply climbs to an average of $35,300.
Filing Fee – $289
The average fee to file for divorce in Illinois is $289, which is above the national average; while the average divorce attorney fees amble around a stark $10,900.
Couples who race toward the divorce finish line must begin their journey by filing for a divorce. The simple but necessary act of filing itself costs a few hundred dollars. Under certain circumstances, like when individuals have insufficient income to pay the divorce filing costs, the fee may be waived.
Children – $20,700
Bring children into the picture, and divorce costs skyrocket to $20,700 on average in Illinois. Disputes over child support as well as child custody battles increase the costs of divorce proceedings, especially when a judge resolves the issues. Divorcing spouses save costs significantly when they are able to settle divorce issues involving children before the case goes to trial.
Alimony – $19,100
Alimony also drives the cost of divorce upwards, in Illinois as well as in every state. Spousal support or spousal maintenance are interchangeable terms for what is known as alimony. In the Land of Lincoln, alimony spurs the costs of divorce to $19,100 on average. Spouses with unequal earning power tend to fight out alimony battles, leading to soaring divorce costs. The purpose of awarding alimony is to allow the lesser-earning spouse to live as comfortably as he or she did during the marriage.
A few situations warranty alimony:
1. After a long marriage
2. When one spouse gives up a career to support the working spouse
3. When a spouse stays at home to raise the couple's children. The cost of alimony increases due to the necessary involvement of vocational analysts and financial experts.
Child support and alimony are two completely separate entities. Child support is intended to benefit the couple's minor children, with financial aid going to the spouse who has custody of the children. Alimony is strictly reserved to provide financial assistance to the lesser-earning spouse until he or she becomes self-supporting.
Property Division – $19,400
High-income couples will have a high-cost divorce. The steep rise of costs in a divorce that includes property division occurs when multiple assets are involved. Couples entangled in the dissolution of marriage will zealously safeguard their retirement accounts, savings accounts, cars, brokerage accounts and real estate.
Tax experts, property appraisers, and the financial analyses necessary from legal professionals are sought out to fairly divide the assets between the divorcing parties. A judge who resolves property division matters makes this type of divorce more expensive.
When property division issues achieve resolution out of court, the cost to divorce drops significantly. On average, Illinois divorcees can expect to pay $19,400 in divorces that include property division.
Faults Increase Divorce Costs
Filing for divorce based on fault will ensure the cost of divorce is higher than average. Spouses who claim faults, like impotence, abandonment, infidelity, drug, or alcohol abuse or cruelty will witness the price of their divorce proceedings ascend markedly.
Attorney's Hourly Rates – $260
Illinois divorce lawyers charge an hourly fee of $260 on average to proceed with the divorce. Spouses' payments include fees for any paralegals involved, legal staff, court filings, financing the costs of expert witnesses, financial analysts, appraisers and professional child custody evaluations. Those starting on the legal path to divorce can expect to pay the attorney's hourly rate multiplied by the total number of hours the attorney spends to complete the divorce.
Work with Experienced Attorneys
As intimidating as these costs can be, working with an attorney often proves to be the best option at the end of the day. Especially for complicated situations or if your ex-spouse is working with an attorney, it is highly recommended to work with one yourself.
This way, you will be able to secure your assets and establish an effective solution that works in your best interest. You will also be saving more money by working with an attorney to avoid a large percentage of income sent to your spouse for the remainder of your working years.
Berry K. Tucker & Associates, Ltd.
The family law firm of Berry K. Tucker & Associates, Ltd. is experienced in helping couples navigate through and complete their divorce. Both contested and uncontested divorces are expertly handled by the divorce lawyers at our Oak Lawn firm. The combined wealth of experience between the divorce attorneys at Berry K. Tucker & Associates, Ltd. totals over 50 years.
The divorce lawyers at Berry K. Tucker & Associates, Ltd. are experienced in several aspects of divorce proceedings. Parental responsibilities are included in our services to help win child custody battles. Child support agreements are negotiated as are visitation rights for parents. Our divorce lawyers also help our clients through property division issues, including homes, pets, stock and vehicles, to make sure they walk away with assets to which they are fairly entitled.
Experienced with Divorce Cases
We are also experienced in settling for the most favorable level of spousal support or spousal maintenance. When post-decree issues, such as changes in income, marital status or employment, arise after the divorce is finalized, the divorce attorneys at Berry K. Tucker & Associates, Ltd. will represent you to ensure your needs are met.
The Berry K. Tucker & Associates, Ltd. firm of divorce lawyers offers a detailed case evaluation to spouses on the brink of divorce. Our lawyers are skilled and experienced in divorce practices and knowledgeable in current laws, so that you receive the best representation during your divorce proceedings and even post-divorce.