Motor vehicle accidents are stressful and exhausting. As with any emergency, the key to dealing with it is the preparation and thoughtful execution of a plan. So if an accident happens, the victims already know what needs to be done such as immediately seeking medical assistance or contacting a personal injury attorney.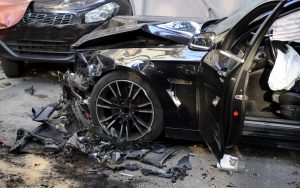 The car accident lawyers at the personal injury law firm of Hutzler Law in Phoenix, Arizona can help with legal advice following a motor vehicle accident. There are also actions that should be avoided such as discussing who may be responsible for an accident. This article can help make a plan for dealing with a motor vehicle accident and avoiding potentially disastrous mistakes.
Follow a Plan After an Accident
Before an accident occurs, make a plan for what to do. The first step should be not to panic; remain calm and take a couple of deep breaths to quiet the nerves. Accidents can trigger a rush of adrenaline, but deep breathing and focusing on staying calm can counteract this effect.
Secondly, check the injury status of everyone involved and call an ambulance if necessary. Thirdly, before an accident, think about the equipment that would be necessary or helpful in case of an accident. This may be a couple extra blankets, a notebook, and a first aid kit in the trunk of the car. It is also incredibly important to have a camera to document the accident scene. This camera could be on a phone or a digital camera that is in the car.
Try to photograph the injuries and damages at the accident scene. The photographs can be used to prove details of an accident that are unclouded by human error and this can make all of the difference when determining who is at fault.
Stick to the Facts
When an accident occurs, it's important stick to the facts when filing the police report about the accident. Avoid making guesses as to why this accident happened and do not attempt to speculate who or what may have been at fault. Answer only the who, what, where, and when questions.
Any thoughts as to who may be at fault are discussions to have with a personal injury attorney later. This should also be a time to take personal notes with the information of the other parties involved, the vehicle identification numbers, license plate numbers, insurance information, and the information that was shared for the police report.
Seek Legal Advice from a Professional Attorney
The best course of action when it comes to vehicular accidents is to be cautious and immediately seek legal advice. It is also important to not to speak to any other insurance company without seeking legal advice.
If an accident victim waits until a medical bill needs to be paid or until they are underwater due to lost wages, it may be too late to recover the money needed to address these issues.
Think about All Medical Expenses and Future Lost Wages
Finally, those involved in a vehicular accident should not sign any paperwork they receive from an insurance company without consulting a car accident lawyer. An experienced personal injury attorney can negotiate with insurance companies to ensure that victims can work on healing and recovering from an accident.
It is so important that victims of vehicular accidents to speak to a personal injury attorney before agreeing to any settlement. Too many accident victims have given up their legal right for larger recoveries or settlements. This is crucial, especially for those who are facing increasing medical expenses and an inability to recover lost wages.
Conclusion
If you have been involved in a motor vehicle accident, making a plan beforehand and following it can make all of the difference. Please contact the experienced car accident lawyers at Hutzler Law in Phoenix at 602-730-4530 to help make the best decisions following a motor vehicle accident.
Tags:
car accident
,
personal injury attorney
,
personal injury law